1979 Honda XL500s

Service

Owner: LaVaniel Ennis of Fredericksburg, VA

COMMENTS:  This bike was brought to us to reseal the leaky top rocker box covers & head gasket, change the oil & clean the oil screen, to weld 3 small holes in the muffler, and to make the kick starter a bit easier to use.  No cosmetic work was performed.  This service took over 4 hours of labor + parts.

Quote from our customer on March 10, 2010: "
I'm very happy with both my old bikes (1980 Honda CB900) and to have someone to work on them. I very glad Luther told me about Randy's."
Located in beautiful Central Virginia since 2001

8175 Black Walnut Run Road, Rhoadesville, VA 22542 USA

Service by Appointment

~ Closed Sunday & Monday ~

Please call or email to schedule an appointment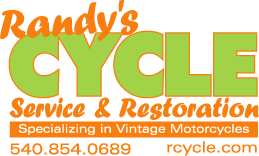 Revitalize the Spirit & Beauty of your Classic Bike

Please be patient as several pictures load.

Vehicle not for sale

Website created and managed by Ursulina Creel.  Comments? Send to
info@rcycle.com
This page was last updated on: October 19, 2010