Pre-Purchase Vehicle Inspection:  Purchasing a used motorcycle can come with certain risks. It's easy to miss mechanical, cosmetic, and safety issues during visual inspections and test drives. To eliminate much of the anxiety and get an accurate picture of the condition of the vehicle, we offer a Pre-Purchase Inspection.  Charles "Randy" Creel, Jr. is a Certified ASE Master Technician with over 20-years of experience. He has the ability & skill to spot potentially damaging mechanical problems or warn you of details that may not have been reveled by the seller.  The cost of this service could pay for itself many times over with just one unexpected repair or hours of missed riding time.  Call or Email us to make an appointment to bring the bike by and have your Pre-Purchase Inspection done while you wait.  

Cost: $90 

Info about Virginia Safety Inspections for Antique Vehicles

INSPECTIONS - Virginia Motor Vehicle Safety & Pre-Purchase

Virginia Motor Vehicle Safety Inspection:  While having service or restoration on your motorcycle, ask about getting a Virginia Motor Vehicle Safety Inspection.  We offer this courtesy service while we have your bike at our shop.  Note: because we are not open to the public for regular business hours, we are not allowed by the State to be an official inspection station.  But, Charles "Randy" Creel, Jr. is an authorized Virginia Motor Vehicle Safety Inspector who performs the motorcycle inspections himself at a local inspection station. So save yourself the time and hassle of getting your bike inspected after it leaves our shop. We can take care of it for you!

Cost: $57 = $12 inspection fee + $45 convenience fee (as of January 1, 2013)

Inspector: Charles R. Creel, Jr.

Inspector ID: VSP20386

Expires: 12/31/2013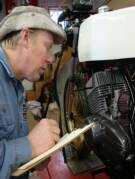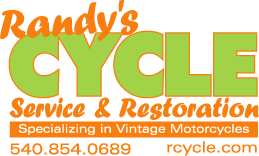 Revitalize the Spirit & Beauty of your Classic Bike

Located in beautiful Central Virginia since 2001

8175 Black Walnut Run Road, Rhoadesville, VA 22542 USA

Service by Appointment ~ Closed Sunday & Monday

The Mid-Atlantic Region Premier Restorer of Vintage Motorcycles









Website created and managed by Ursulina Creel.  Comments? Send to
info@rcycle.com
This page was last updated on: February 9, 2013
Website & video content is the property of Randy's Cycle Service & Restoration & may not be used for any reason without prior, written permission.